Tired of uncomfortable, unsightly vein problems? Learn about the available treatments to identify the best one for you. Without treatment, a minor problem with your veins can get much worse. So it's important to see a vein doctor like the specialists at Precision for an evaluation. Following are a few of the safe, effective and minimally-invasive procedures we use to help patients with vein issues.
Microphlebectomy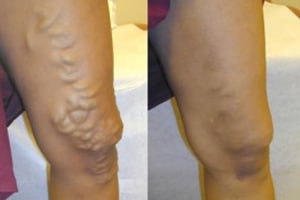 Microphlebectomy is a procedure that involves removal of the varicose veins through tiny surgical incisions. This is the recommended treatment for large superficial varicose veins. Due to their size and location, these veins cannot be effectively treated with sclerotherapy and are superficial to the skin to treat with ablation. Removal of the veins with microphlebectomy results in quicker healing, less pain, and a better cosmetic result than would occur without this treatment. With microphlebectomy, varicose veins are removed through small microblephectomy-blurbincision, which leave virtually no scars. Learn more.
Sclerotherapy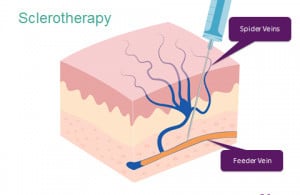 At Precision, sclerotherapy is a minimally invasive treatment of common spider and small varicose veins, without the need of anesthesia, performed in the office. It is can used to treat spider veins visible at the surface of the skin. It also applies to treatment of veins that are deeper under the skin surface, which is aided with the use of ultrasound guidance. Sclerotherapy involves the injection of a chemical sclerosant directly into the diseased vein, causing a local irritation and ultimately causes the vein to close. The solution can be in a liquid or foam. The sclerosant we use at Precision is the safest and most effective on the market. Learn more.
ClosureFast Targeted Endovenous Therapy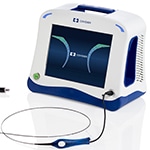 DVTs may be treated with blood thinning medications called anticoagulants or clot-busting medications termed thrombolytic therapy. In some cases, clots are removed with a catheter or surgery. People that cannot tolerate or do not respond to anticoagulation may have a permanent filter inserted in their vein. The filter prevents large embolisms from entering the lungs but it does not stop blood clots from developing. Learn more.
VenaSealTM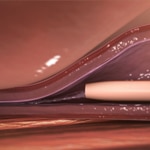 VenaSeal™ is a FDA-approved procedure that permanently treats varicose veins at their source. A revolutionary way to treat varicose veins, the VenaSeal varicose vein treatment is like superglue for the body. VenaSeal seals distressed varicose veins with adhesive, rerouting blood to healthy veins and increasing blood flow throughout the legs. With VenaSeal varicose vein treatment, there is no anesthesia and no need for compression stockings after the procedure. If required, both legs can be treated at the same appointment. VenaSeal is the least invasive, most comfortable procedure for relieving the pain, discomfort and unsightliness of varicose veins.  Learn more.
See All Treatments
Request an Appointment
If you have vein symptoms, make an appointment with our specialists for an evaluation. If your veins need treatment, the experienced vein doctors at Precision will create an individualized plan to help you get the best results. To schedule an appointment please call us at 214-382-3200 or complete the form below.
Precision serves the DFW area including Dallas, Fort Worth, Carrollton, Richardson, Garland, Mesquite, Highland Park, University Park, Park Cities, Plano, Frisco, McKinney, Arlington, Irving, Grand Prairie, Denton, Lewisville and all of North Texas.
This information is not a substitute for professional medical advice. Prior to starting any new treatment or questions regarding a medical condition, always seek the advice of your doctor or other qualified health provider.
References:
1. Almeida JI, Kaufman J, Göckeritz O, et al. Radiofrequency endovenous ClosureFast versus laser ablation for the treatment of great saphenous reflux: a multicenter, single-blinded, randomized study (RECOVERY Study). J Vasc Interv Radiol. 2009;20:752-759.
2. L. H. Rasmussen, M. Lawaetz, L. Bjoern, B. Vennits, A. Blemings and B. Eklof, Randomized Clinical Trial Comparing Endovenous Laser Ablation, Radiofrequency Ablation, Foam Sclerotherapy and Surgical Stripping for Great Saphenous Varicose Veins. British Journal of Surgery Society Ltd., Wiley Online Library, www.bjs.co.uk, March 15, 2011.
3. Dietzek A. Current data on radiofrequency ablation with the ClosureFast catheter. Presented at the 37th Annual Veith Symposium; November 17, 2010; New York.
4. Weiss RA, Weiss MA. Controlled radiofrequency endovenous occlusion using a unique radiofrequency catheter under duplex guidance to eliminate saphenous varicose vein reflux: A 2-year follow-up. Dermatol Surg 2002;28:38-42.
5. Proebstle T, et al. Three-year European follow-up of endovenous radiofrequency-powered segmental thermal ablation of the great saphenous vein with or without treatment of calf varicosities. JVS; July 2011.