What Are Spider Veins?
Spider veins are a common unwanted issue for many patients. The medical term for spider veins is telangiectsias. Spider veins can be multiple colors; red, purple or blue are the most common.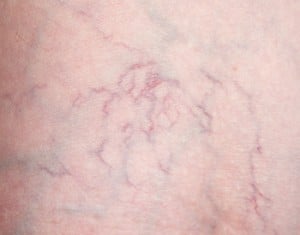 Spider veins itself is not necessarily a condition that requires medical attention. Spider veins however can be an indication of a deeper issue of Chronic Venous Insufficiency (CVI) of the lower extremities. This is a vein disorder that causes blood to flow backwards and pool in the legs. If a deeper issue such as CVI is identified, treatment of CVI via ablation or removal will often help prevent or delay additional spider veins from forming. For a consultation with one of our specialists, call Precision VIR at 214-382-3200 or complete the form below.
What Are the Symptoms of Spider Veins?
Spider veins often are unsightly and a cosmetic nuisance. Spider veins usually do not cause pain, swell or bulge. They can occasionally itch and burn. If you have spider veins or notice an increasing number of spider veins, and are experiencing other feelings of discomfort (tired, heavy, achy) or pain, this may be a sign of an underlying chronic venous insufficiency of the legs.
What Factors Contribute to Spider Veins?
Hereditary factors play a big role in who develops spider veins. Statistically spider veins occur most frequently in women and individuals that have occupations that requires them to stand or sit for long periods of time. In general, any condition that puts added pressure on the circulatory system increases the chance of spider vein formation.
The most common factors are:
Heredity
Older age
Hormonal
Overweight
Occupation
Sedentary lifestyle
Sun exposure
Trauma/injury
How Are Spider Veins Treated?
Sclerotherapy is the most common treatment of spider veins.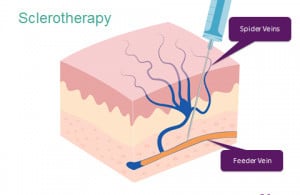 Sclerotherapy is a minimally invasive treatment of common spider and small varicose veins without the need of anesthesia. It is used to treat spider veins visible at the surface of the skin. It also applies to treatment of veins that are deeper under the skin surface, which is aided with the use of ultrasound guidance. Sclerotherapy involves the injection of a chemical sclerosant directly into the diseased vein, producing a local irritation and ultimately causes the vein to close. The solution can be in a liquid or foam. The sclerosant we use at Precision VIR is the safest and most effective on the market.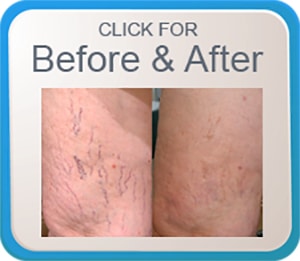 The Sclerotherapy treatment session takes around 20-45 minutes. It is an office based procedure that is performed in the comfort and convenience of the Precision VIR office. Usually, 2-3 sessions are necessary, depending on the severity and number of spider veins. Noticeable results are usually achieved 6-8 weeks after treatment. Sclerotherapy is very safe and patients can return to normal activity immediately after treatment.
Learn More About Sclerotherapy
At Precision VIR, Excellent Patient Care Is Our Passion
Our specialists will take the time to answer your questions about spider veins and Sclerotherapy. If your spider veins need treatment, the experts at Precision VIR will tailor a treatment plan to help you get the best results. This may involve initially ruling-out a deeper issue with a duplex ultrasound.
Meet Our Expert Doctors
Schedule an Appointment
Request an appointment for a spider veins exam if you are experiencing any of the following symptoms. To schedule, please call us at 214-382-3200 or complete the form below.
web-like appearance on the skin
uncomfortable feeling in the legs
swelling
rash
throbbing, cramping, or aching
restless legs
itching around the veins
skin ulcers
Precision VIR serves the DFW area including Dallas, Fort Worth, Carrollton, Richardson, Garland, Mesquite, Highland Park, University Park, Park Cities, Plano, Frisco, Allen, McKinney, Flower Mound, Lewisville, Denton, Arlington, Irving, Grand Prairie and all of North Texas.
This information is not a substitute for professional medical advice. Prior to starting any new treatment or questions regarding a medical condition, always seek the advice of your doctor or other qualified health provider.