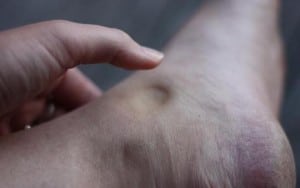 Swelling and leg edema can be caused by an abnormal buildup of fluid in the soft tissues of the leg. Edema is multifactorial and can be caused by lymphatic dysfunction and/or a more progressive stage of venous reflux disease. Increased venous hypertension forces fluid to diffuse into the tissues beneath the skin. Edema can be part of the spectrum of symptoms that occur in a patient with venous disease. Ankle or foot swelling caused by venous reflux and components of lymphatic dysfunction can be reduced with a vein treatment, such as RF ablation or ultrasound guided sclerotherapy.
Signs of Edema Include
leg or ankle swelling
changes in skin pigmentation
pain and discomfort particularly in the calf and/or ankle
Schedule an Appointment
Nonemergency issues related to leg swelling still need prompt care. Schedule an appointment as soon as possible so that your physician can diagnose any underlying problems. Our doctors will perform a detailed clinical evaluation that may include lab testing and vascular testing such as duplex ultrasound in order to determine the cause of your venous disease and recommend the best and most appropriate treatment.
Call us today at 214-382-3200 to schedule your consultation or complete the form below.
Precision VIR serves the DFW area including Dallas, Fort Worth, Carrollton, Richardson, Garland, Mesquite, Highland Park, University Park, Park Cities, Plano, Frisco, Allen, McKinney, Flower Mound, Lewisville, Denton, Arlington, Irving, Grand Prairie and all of North Texas.
This information is not a substitute for professional medical advice. Prior to starting any new treatment or questions regarding a medical condition, always seek the advice of your doctor or other qualified health provider.