Dr. Chan earned his M.D. at St. Louis University School of Medicine. He went on to complete a General Surgery Internship at New York Medical College, Westchester County Medical Center and a Diagnostic Radiology Residency at Lenox Hill Hospital, New York City.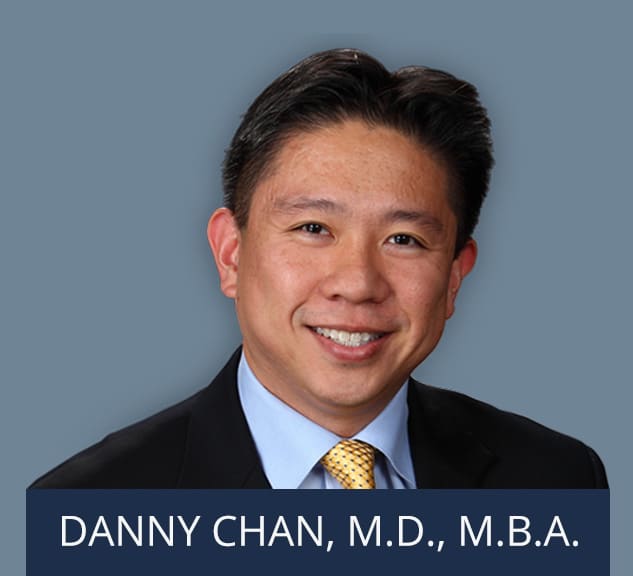 He received Fellowship training in Vascular and Interventional Radiology at the Miami Cardiac and Vascular Institute. Dr. Chan is Board Certified by the American Board of Radiology in Diagnostic Radiology and in Vascular and Interventional Radiology. He has an additional Registered Physician Vascular Interpreter (RPVI) certification. He received his MBA from the University of Texas at Dallas in 2012.
Dr. Chan's interests include comprehensive vein care, AV dialysis intervention, women's health and male infertility. He has extensive experience with treatment and vascular diagnosis in patients with postural orthostatic tachycardia syndrome (POTS) and associated connective tissue disorders (EDS).
Dr. Chan was an Assistant Professor, Dept. of Radiology, Division of Interventional Radiology, at the University of Texas Southwestern Medical Center and was Medical Director of the Non-Invasive Vascular Laboratory at St. Paul University Hospital, Dallas for many years before co-founding Precision VIR. He currently practices at several local hospitals and specializes in vascular disease with minimally invasive treatment.
MAKE AN APPOINTMENT
By the Numbers
Years since fellowship: 13
Peer reviewed publications: 11
Book chapters: 2
Presentations at national medical association meetings: 17
Years at UTSW: 7
MAKE AN APPOINTMENT
Philosophy & Approach
"I enjoy helping patients solve complex problems. I enjoy when I can make a patient feel like their symptoms are real and meaningful not only to them but to me as well."
Words of Wisdom for Patients
"Finding a physician is a very personal matter. Half the battle is won when you find a physician that will listen."
His Passion in Medicine
"I'm passionate about helping patients avoid major surgery with minimally invasive techniques I've honed my entire career."
Favorite Quotes
"Dream without fear, Live without limits" – Unknown
"We are what we repeatedly do; excellence, then is not an act but a habit" – Aristotle
"You miss 100% of the shots you never take" – Wayne Gretsky
His Alma Mater
"Medical school at Saint Louis University was a great experience, especially with a Jesuit based education, really opened my eyes to community service and spiritual side of medicine.
Radiology residency at Lenox Hill Hospital in NYC was great. Practicing and learning medicine/radiology in a big urban environment was a great experience.
IR fellowship at the prestigious Baptist Cardiac and Vascular Institute was close to the hardest year of my life but worth every minute. Learning my future craft in a special way in at a world famous center was one of the highlights of my early career."
Hobbies & Interests
"I love spending time with my family, cooking breakfast, and exploring new restaurants. Youth sports is a passion, with special interest in watching my own sons play basketball and baseball. The power of sports in helping mold young lives and the community is very inspiring."
MAKE AN APPOINTMENT