Catie Burleson worked in various subspecialties of orthopedic surgery for five years prior to transitioning to interventional radiology (IR) at UMass Memorial Medical Center, one of the busiest Level I trauma centers in New England.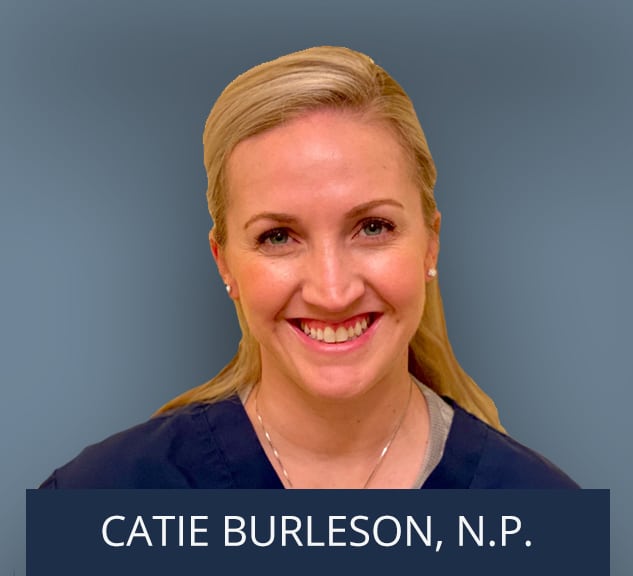 Catie obtained first-hand experience performing hundreds of inpatient procedures and supporting multidisciplinary teams of doctors, nurses and advanced practitioners.
A native of Massachusetts, Catie graduated summa cum laude from Merrimack College in Massachusetts before earning her Nurse Practitioner degree with honors at Boston College. She holds Vascular Access Board Certification (VA-BC) and has a deep interest in difficult adult and pediatric vascular access.
She currently lives in Lewisville, Texas with her husband and two children, and enjoys playing soccer and spending time with her family.
MAKE AN APPOINTMENT
By the Numbers
Years since graduation: 9+
Board Certified by American Association of Nurse Practitioners (AANP)
Family Nurse Practitioner Program – Boston College
Over 10 years' experience in surgical and procedural specialties
Philosophy & Approach
"I always approach patients in the most conservative manner possible. I take my time to explain everything thoroughly in a language that my patients can understand. I always encourage patients to ask questions and reach out whenever they need me. I'm here for you every step of the way!"
Words of Wisdom for Patients
"You know your body best, never be afraid to ask questions and advocate for yourself!"
Her Passion in Medicine
"I am passionate about building relationships with patients and helping them find relief from their symptoms with the use of the latest cutting-edge technologies."
Favorite Quote
"As we express our gratitude, we must never forget that the highest form of appreciation is not to utter words, but to live by them" – JFK
Alma Mater
"Merrimack College was the best four years of my life! This small Catholic college allowed me to develop my love of the sciences, kick it on the soccer field and make lifelong friends."
Hobbies & Interests
"My hobbies include playing soccer and golf (when I can find the time!)"
MAKE AN APPOINTMENT