Personalized Medical Treatment for Skin Discoloration & Hyperpigmentation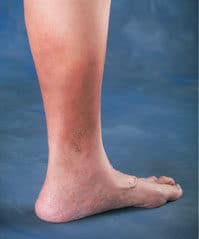 Skin discoloration happens when iron from the red blood cells gets deposited under the skin and "stains" the skin. This occurs when there is increased venous congestion causing a leaking of red blood cells into the tissues, especially the lower legs. The venous congestion can be from underlying varicose veins. When this symptom is present, it is usually a sign of a more advanced stage of venous disease.
Once the tissue is stained, it takes a long time for the body to clear. If the underlying venous disease is not treated then the staining will get worse and skin thickening, edema with potentially venous ulcers may occur.
Once the underlying diseased veins have been treated, the improved blood flow to and from the affected leg and skin helps to revive the tissue. There is eventual clearing and restoration of the skin and tissues.
Request an Appointment
If you notice dark areas of skin, especially around the ankles or the inside of your lower leg, call the experts at Precision VIR today to schedule your consultation. Our specialists will take the time to answer your questions about your condition and our advanced procedures. At Precision VIR, we have expertise in all available minimally invasive techniques. After an initial evaluation, we tailor the correct procedures with patient comfort, safety and maximum effectiveness in mind.
Meet Our Expert Doctors
To schedule an appointment please call us at 214-382-3200 or complete the form below.
Precision VIR serves the DFW area including Dallas, Fort Worth, Carrollton, Richardson, Garland, Mesquite, Highland Park, University Park, Park Cities, Plano, Frisco, Allen, McKinney, Flower Mound, Lewisville, Denton, Arlington, Irving, Grand Prairie and all of North Texas.
This information is not a substitute for professional medical advice. Prior to starting any new treatment or questions regarding a medical condition, always seek the advice of your doctor or other qualified health provider.