Suzanne Slonim, MD is board certified in Radiology as well as Vascular and Interventional Radiology. She graduated from George Washington University School of Medicine in 1989 and completed internship at UCLA.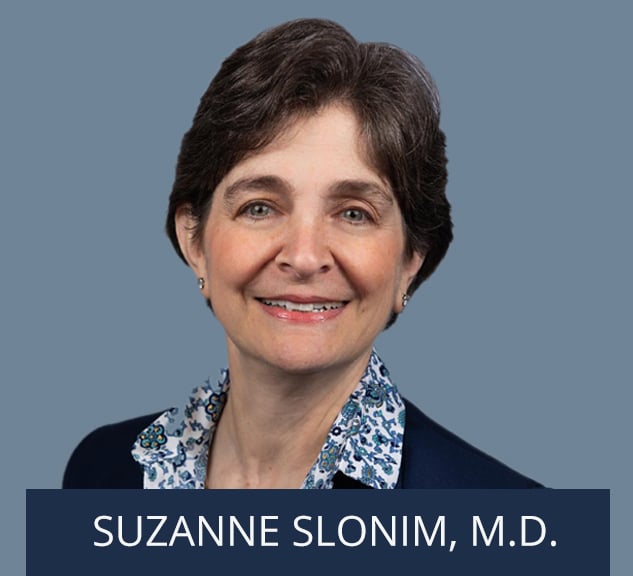 She did her residency training in Diagnostic Radiology at The Lahey Clinic in Boston, then went on to become Fellowship trained in Interventional Radiology at Stanford University in Palo Alto, California.
Dr. Slonim remained on staff at Stanford for five years. While there, she published many scientific articles in peer-reviewed journals, presented research findings at national meetings, and trained residents and fellows in Interventional Radiology.
In 2000, Dr. Slonim moved to Dallas. Since then, she has become a leader in the Interventional Radiology field. She was awarded Fellowship in the Society of Interventional Radiology in 2012 and Fellowship in the American College of Radiology in 2013. She practices all aspects of Interventional Radiology and has special interests in uterine fibroid embolization, pain management procedures, and bariatric embolization.
MAKE AN APPOINTMENT
BY THE NUMBERS
Years performing uterine fibroid embolization to treat women bothered by fibroids: 21
Number of interventional radiology cases: 30,031
Peer reviewed publications: 23
Book chapters: 6
Presentations at national medical association meetings: 28
Best Doctors in Dallas, D Magazine: 2013, 2014, 2016
Texas Super Doctors: 2013-2017
MAKE AN APPOINTMENT
Philosophy & Approach
"I treat every patient as if she is my sister or mother. I know that going to the doctor is scary. I'm honored that women are willing to share their concerns with me and that I can help them when they feel most vulnerable."
Words of Wisdom for Patients
"You're going to get better. We can take care of this. I am available if you need me, no matter what time."
Her Passion in Medicine
"I'm passionate about helping women avoid surgery if they can."
Favorite Quotes
"Never grow a wishbone where a backbone ought to be." – Clementine Paddleford
"The road to success is always under construction." – Lily Tomlin
Her Alma Mater
"I love my Alma Maters. Duke was great. Living in DC, Boston, and Northern California were all fantastic. My last year of training at Stanford was one of the hardest years of my life, but it was also one of the best years of my life."
Hobbies & Interests
"I love watching movies and listening to audio books. I like to tell people I'm a runner, but mostly I walk. I like to walk half marathons. I have backyard chickens."
MAKE AN APPOINTMENT