Lower Extremity Venous Insufficiency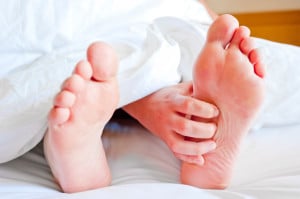 Patients with chronic lower extremity venous insufficiency may describe the feeling of the constant urge to move their legs, particularly at night. This sensation may be caused by Restless Leg Syndrome (RLS). One mechanism to explain this sensation may be that when the blood is not emptying out of the legs properly, then the muscular pumping action of moving one's leg muscles may be the only way to pump blood back towards the heart.
There has been a documented association of Restless Leg Syndrome and chronic lower extremity venous insufficiency. In a published study in 2008, an 80% improvement in RLS symptoms was reported after treatment of lower extremity venous insufficiency.
Schedule an Appointment
If you have vein symptoms such as Restless Leg Syndrome, request an appointment with our specialists for an evaluation. We work with a wide variety of vein disorder patients. If your veins need treatment, the experienced physicians at Precision VIR will create an individualized plan to help you get the best results.
We know how important it is to find a doctor who's the right fit for you or your family members. On behalf of all our doctors and staff, we welcome the opportunity to get to know you better as we partner with you to meet your health goals in specialty care.
We specialize in minimally invasive interventions treating a wide gambit of conditions. At Precision VIR, we focus on being expert consultants to our referring physicians as well as providing top notch care to our patients. While our website has helpful content about treatment options, we are always happy to answer any additional questions over the phone or through an initial consultation. Call us today at 214-382-3200 to schedule your consultation or complete the form below.
Precision VIR serves the DFW area including Dallas, Fort Worth, Carrollton, Richardson, Garland, Mesquite, Highland Park, University Park, Park Cities, Plano, Frisco, Allen, McKinney, Flower Mound, Lewisville, Denton, Arlington, Irving, Grand Prairie and all of North Texas.
This information is not a substitute for professional medical advice. Prior to starting any new treatment or questions regarding a medical condition, always seek the advice of your doctor or other qualified health provider.