A Solution for Blood Clots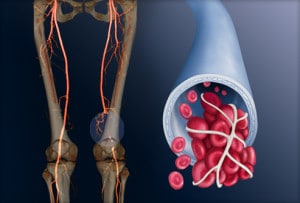 Precision VIR specializes in the diagnosis and treatment of blood clots within both the deep and superficial venous system. Blood clots often cause pain and swelling of the affected limb and can be a life-threatening condition. Blood clots rarely dissolve completely on their own. They cause pain and swelling of the affected limb and can be a life-threatening condition. Blood clots can often lead to permanent damage of the veins and possible life-long side effects called Post-Thrombotic Syndrome (PTS).
Although many doctors treat patients for
Deep Vein Thrombosis
(DVT) and blood clots, we specialize in comprehensive DVT and blood clot care by offering minimally invasive therapy to potentially remove or dissolve blood clots in the body, especially in the legs. By undergoing an evaluation with one of our experts, you can ensure that your Deep Vein Thrombosis is being treated with the most advanced therapies and techniques available. To schedule an appointment please call us at 
214-382-3200
 or complete the form below.
The American Heart Association has made strong recommendations that any patient with certain types of blood clots (Iliofemoral) should undergo the Thrombolysis procedure. Therefore, any patient diagnosed with a blood clot should be seen by a vascular specialist trained in the full range of treatment options.
Important Points to Consider When Choosing a DVT Specialist
At Precision VIR, our office provides comprehensive care for DVTs, including diagnosis, treatment, and follow-up.
We are one of the few groups in Dallas who perform the Thrombolysis procedure. This s a treatment that can dissolve newly diagnosed blood clots within the body. The Thrombolysis procedure has been strongly recommended by the American Heart Association.
Time is important! The best results arise from blood clots that are treated immediately or within a few weeks after diagnosis.
Even patients who are suffering from chronic swelling or Post-Thrombotic Syndrome (PTS) can often be helped by proper treatment.
Most insurances cover all diagnostic tests and therapeutic procedures for DVT care.
Getting expert care for DVTs today can prevent long-term complications such as Post-Thrombotic Syndrome caused by inadequate treatment of a DVT.
Many patients have significant reduction in the swelling of their legs or arms immediately after getting proper treatment from one of our specialists.
Meet Our Expert Doctors
At Precision VIR, Excellent Patient Care Is Our Passion
Our specialists will take the time to answer your questions about Deep Vein Thrombosis and our advanced procedures. If your veins need treatment, request an appointment for an evaluation with the experts at Precision VIR by calling 214-382-3200 or complete the form below. We will create an individualized plan to help you get the best results.
Precision VIR serves the DFW area including Dallas, Fort Worth, Carrollton, Richardson, Garland, Mesquite, Highland Park, University Park, Park Cities, Plano, Frisco, Allen, McKinney, Flower Mound, Lewisville, Denton, Arlington, Irving, Grand Prairie and all of North Texas.
Prior to starting any new treatment or questions regarding a medical condition, always seek the advice of your doctor or other qualified health provider. This information is not a substitute for professional medical advice.