Dr. Aseem K. Bhandari, a Board Certified Vascular Interventional Radiologist, attended Medical School at Temple University in Philadelphia, PA and completed residency at Hofstra University Long Island Jewish Hospital in New Hyde Park, NY.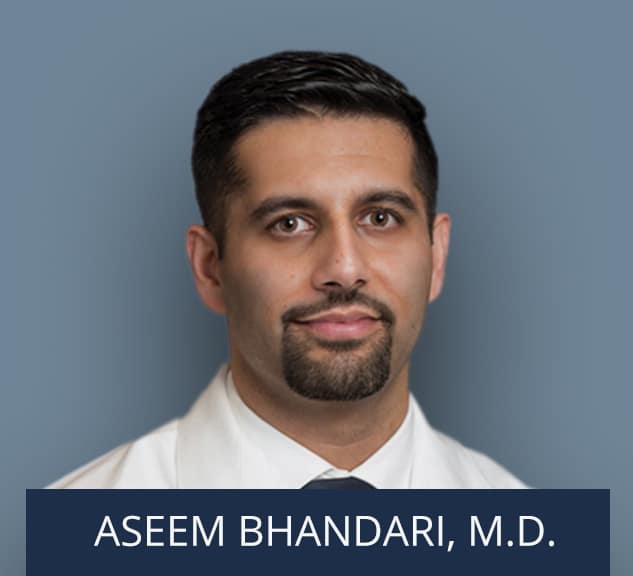 Dr. Bhandari was born and raised in the NY/NJ area. He got his start studying biochemistry and chemical engineering on full scholarship at Stevens Institute. He studied public health at UMDNJ and before earning his MD at Temple University in Philadelphia, PA.
Following Residency he completed a Fellowship study in Vascular and Interventional Radiology at the prestigious Miami Florida Cardiac and Vascular Institute with some of the greatest minds in Vascular & Interventional Radiology. He practiced at large medical centers and teaching institutions including Methodist Dallas and Memorial Health before his passion for treating venous and arterial disease brought him to Precision Vascular & Interventional.
Dr. Bhandari has held numerous service and leadership positions in cities that span the eastern seaboard. He is also a member of the Society of Interventional Radiology and the American College of Radiology.
MAKE AN APPOINTMENT
By the Numbers
Years since fellowship: 4
Peer reviewed publications: 5
Presentations at national meetings: 25
Aortic Aneurysms Repaired: 104
Languages Spoken: 4 (Hindi, Punjabi, Spanish, English)
Board Certified in Vascular & Interventional Radiology
Active member of Society of Interventional Radiology
Philosophy & Approach
"My philosophy to work and life are similar. I feel privileged to be able to help patients who are in a vulnerable situation because of their illness. I believe that if I create positivity in the world through healing and patient care, ultimately the universe will reciprocate."
Words of Wisdom for Patients
"Be your own advocate! Your health is in your hands. I am here to help you in any way possible, to use my unique skills, and provide you with the tools and information to lead a healthy life."
His Passion in Medicine
"My passion is the treatment of peripheral arterial disease. The human body is a masterfully engineered machine and I consider myself a master plumber. I am passionate about improving leg pain, healing wounds and ulcers, and preventing amputations."
Favorite Quotes
"It's your road and yours alone. Others may walk it with you, but no one can walk it for you." – Rumi (Sufi Poet)
"Love is not about property, diamonds and gifts. It is about sharing your very self with the world around you." – Pablo Neruda (Poet)
"If we can really understand the problem, the answer will come out of it, because the answer is not separate from the problem." – J. Krishnamurti (philosopher)
His Alma Mater
"I have many alma maters, including Temple University, Long Island Jewish Medical Center, and Miami Vascular Institute. All are institutions I hold in very high regard. I have trained with some very inspirational people who took the time to teach me how to be an excellent physician, not only by doing procedures but through the importance of caring with patients and communicating with other doctors."
Hobbies & Interests
"My hobbies include soccer, travel, film, international affairs, and food."
MAKE AN APPOINTMENT