What Is Deep Vein Thrombosis?
A deep vein thrombosis (DVT) is a blood clot that forms in the deep large veins of the pelvis, legs, thighs, or arms. A DVT can reduce or block the flow of blood in a vein. It may dislodge and travel in the bloodstream, causing a stroke, pulmonary embolism, heart attack, or death. DVT is a potentially life-threatening condition and requires immediate medical attention. DVTs may be treated with medications or surgery. To schedule an appointment with one of our expert doctors, please call Precision VIR at 214-382-3200.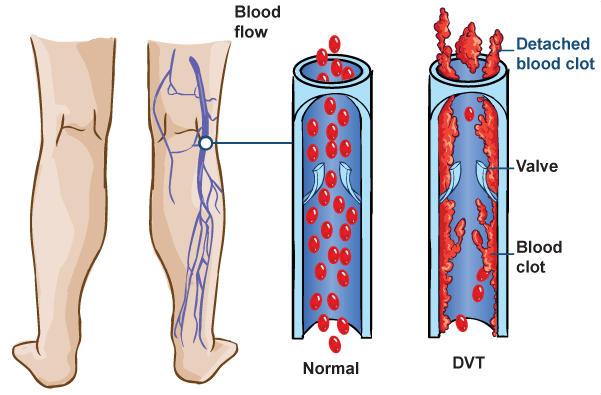 How Is Deep Vein Thrombosis Treated?
DVTs may be treated with blood thinning medications called anticoagulants or clot busting medications termed thrombolytic therapy. In some cases, clots are removed with a catheter or surgery. People that cannot tolerate or do not respond to anticoagulation may have a permanent filter inserted in their vein. The filter prevents large embolisms from entering the lungs but it does not stop blood clots from developing.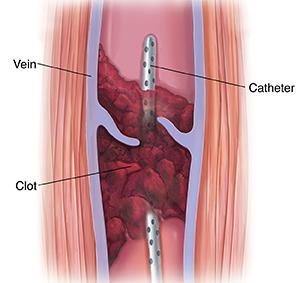 Thrombolysis: A Solution for Blood Clots
Precision VIR specializes in the diagnosis and treatment of blood clots within both the deep and superficial venous system. Blood clots often cause pain and swelling of the affected limb and can be a life-threatening condition. Blood clots rarely dissolve completely on their own and can often lead to permanent damage of the veins and possible life-long side effects called Post-thrombotic Syndrome (PTS).
Our office has a vascular ultrasound lab capable of performing the important ultrasound tests to check for blood clots within the legs or the arms. Our experts are experienced in the most advanced, state-of-the-art deep vein thrombosis treatment, including outpatient procedures used to dissolve and remove the clot within the legs.
Learn More About Thrombolysis
At Precision VIR, Excellent Patient Care Is Our Passion
Our specialists will take the time to answer your questions about Deep Vein Thrombosis and our advanced procedures. If your veins need treatment, the experienced physicians at Precision VIR will create an individualized plan to help you get the best results.
Schedule an Appointment
Request an appointment for a Deep Vein Thrombosis evaluation if you are experiencing any of the following symptoms of DVT:
Swelling, usually in one leg
Leg pain or tenderness
Reddish or bluish skin discoloration
Leg warm to touch
To schedule an appointment please call us at 214-382-3200 or complete the form below.
Precision VIR serves the DFW area including Dallas, Fort Worth, Carrollton, Richardson, Garland, Mesquite, Highland Park, University Park, Park Cities, Plano, Frisco, Allen, McKinney, Flower Mound, Lewisville, Denton, Arlington, Irving, Grand Prairie and all of North Texas.
Prior to starting any new treatment or questions regarding a medical condition, always seek the advice of your doctor or other qualified health provider. This information is not a substitute for professional medical advice.