Dr. Stein earned his M.D at the University of Texas Health Science Center in San Antonio. He went on to complete a Diagnostic Radiology Residency at the University of Texas Southwestern Medical School at Dallas.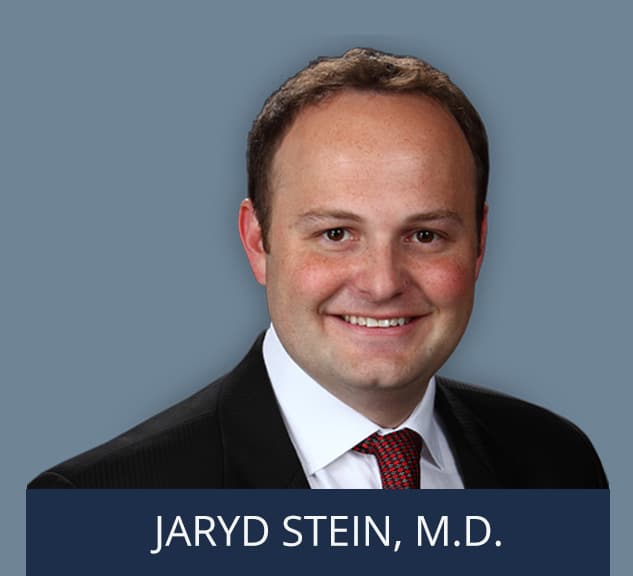 He received fellowship training in Vascular and Interventional Radiology at UT Southwestern. Dr. Stein is Board Certified by the American Board of Radiology in Diagnostic Radiology with an additional fellowship in Interventional Radiology.
He was a clinical instructor on the faculty at the University of Texas Southwestern Medical Center, Dept. of Radiology, Division of Interventional Radiology where he taught residents and fellows. His interests include minimally invasive treatment of venous and arterial disease. He currently practices at several local hospitals and specializes in vascular disease with minimally invasive treatment.
MAKE AN APPOINTMENT
BY THE NUMBERS
Years since fellowship: 4
UT Southwestern Residency and Fellowship
Presentations at national medical association meetings: 2
Board Certified by ABR
Texas Super Doctors: 2014, 2015
MAKE AN APPOINTMENT
Philosophy & Approach
"I try to treat each patient as if this was my parents or siblings. I am minimalistic and conservative in treatment and want to improve patient's lives through better health. Each decision that I make weighs the risks in treatment versus benefits for every patient."
Words of Wisdom for Patients
"To make good informed decisions about your health and treatment, ask a lot of questions until you feel you understand what is exactly going on."
His Passion in Medicine
"I'm passionate about using cutting edge technology and highly specialized procedures to improve patient's lives without having large surgeries and long recovery times."
Favorite Quotes
"Success is a journey, not a destination" – Unknown
"Life is what happens to you while you're busy making other plans." – John Lennon
"Don't wait, the time will never be just right" – Napolean Hill
His Alma Mater
"I loved my Alma Maters, undergraduate at University of Texas at Austin and Medical school at University of Texas Health Science Center at San Antonio.
Radiology residency at UT Southwestern Medical School was great. Practicing and learning medicine/radiology at famous Parkland Hospital in Dallas was an incredible experience.
IR fellowship at UT Southwestern was a great year in my life. After 10 years of training I was finally learning the exact skills and practicing in the specialty of medicine that I love."
Hobbies & Interests
"I love spending time with my wife and children, traveling, golfing and home projects."
MAKE AN APPOINTMENT