What Are Varicose Veins?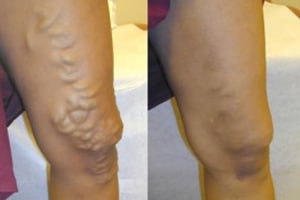 Varicose veins are veins in the superficial compartment of the leg that have become enlarged, swollen, twisted, and/or bulging due to venous reflux disease. The visible veins can be many colors but are most commonly red, blue or flesh-toned. The bulging veins most often appear on the thighs, back of the calves, and the inside of the legs.
Pregnant women may experience varicose veins in the vaginal, pelvic and buttocks area. When these veins appear they may indicate an issue of venous reflux disease in the legs or may be a symptom of a pelvic venous issue. For a consultation with one of our specialists, call Precision VIR at 214-382-3200 or complete the form below.
What Causes Varicose Veins?
Varicose veins are caused by malfunction and damage of the valves in veins of the lower half of the body. As a result of the damaged valves, blood flows forwards but also backwards, in the wrong direction (reflux). This reversal of flow which leads to pooling of backed-up blood, which then causes the veins to bulge, stretch and enlarge. This abnormal process is a medical condition called venous reflux or Chronic Venous Insufficiency (CVI).
What Are the Symptoms of Varicose Veins?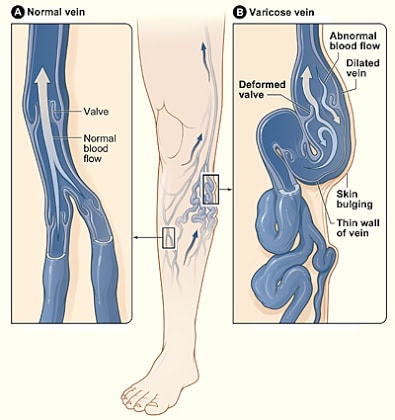 Varicose veins can cause a variety of symptoms that range from mild to severe and are not limited to just unsightly bulging.
Tiredness
Swelling
Achiness
Heaviness
Pain
Numbness
Throbbing
Itching
Cramping
Restless legs
What Factors Contribute to Varicose Veins?
Genetics play a major role in development of varicose veins.
Hormonal changes and pregnancy are a big factor as to why women are more prone to get varicose veins than men.
Age: Vein and valve function may be deranged over time.
Weight: Being overweight can increase venous pressure in the legs and lower half of the body.
Standing or sitting for long periods
How Are Varicose Veins Treated?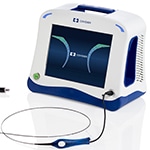 Advances in image-guided minimally invasive ablation technologies have led to the development of procedures such as RF Ablation aka ClosureFast treatment. There is no longer a need for the previous standard of vein stripping which was not only painful but required a prolonged recovery period.
Sclerotherapy is a minimally invasive treatment for small varicose veins. Ultrasound-guided sclerotherapy can be used to treat deeper veins that are underneath the skin at various depths.
Microphlebectomy is a procedure that involves removal of the varicose veins through tiny surgical incisions. This is the recommended treatment for large superficial varicose veins.
Your Precision VIR doctor will perform and interpret your ultrasound during your initial consultation. If lower extremity venous insufficiency is present, appropriate treatment options, including conservative and minimally invasive therapy will be discussed and personalized for you.
Learn More About Treatments
At Precision VIR, Excellent Patient Care Is Our Passion
Our specialists will take the time to answer your questions about varicose vein treatments. At Precision VIR, we are adept at all the available technologies and procedures for minimally invasive treatment of varicose veins and venous disease. We are board certified experts at image guided procedures and ultrasound interpretation which make us the correct and safest choice for treating your vein disease.
Schedule an Appointment
Request an appointment for a varicose veins exam if you are experiencing any of the following symptoms:
Tiredness
Swelling
Achiness
Heaviness
Pain
Numbness
Throbbing
Itching
Cramping
Restless legs
To schedule an appointment please call us at 214-382-3200 or complete the form below.
Precision VIR serves the DFW area including Dallas, Fort Worth, Carrollton, Richardson, Garland, Mesquite, Highland Park, University Park, Park Cities, Plano, Frisco, Allen, McKinney, Arlington, Irving, Grand Prairie, Denton, Lewisville, Flower Mound and all of North Texas.
This information is not a substitute for professional medical advice. Prior to starting any new treatment or questions regarding a medical condition, always seek the advice of your doctor or other qualified health provider.