What Are Varicoceles?
A varicocele is a varicose vein of the testicle and scrotum that may cause pain and lead to testicular atrophy (shrinkage of the testicles).
In healthy veins within the scrotum, one-way valves allow blood to flow from the testicles and scrotum back to the heart. In a varicocele, these valves do not function properly, causing blood to pool enlarging the vein. The heat from the pooling blood raises the temperature of the scrotum causing a severe decrease in sperm count and sperm motility and increase in the number of deformed sperm.
The incidence of varicoceles can be up to 30% in couples who are having difficulty in conceiving. Varicocele may be the most common cause of male infertility. Fortunately, at this time, it is also the most treatable.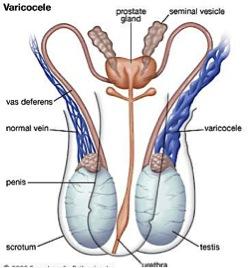 Varicocele commonly happens in the left testicle, because of a difference how veins drain the two testicles. In the left testicle, the spermatic vein brings bloods back to the heart in a less direct way. The left testicular vein enters the left kidney vein, which usually has higher pressures. A varicocele rarely occurs only on the right side. The right testicle vein is shorter and directly enters the main vein returning to the heart, i.e. the vena cava, which usually has lower pressures.
Pain in the scrotum region is a common symptom of a varicocele. Varicoceles that interfere with fertility, cause pain, or cause other problems may require treatment. The good news is, varicoceles are typically very treatable. To learn more, speak with a varicocele specialist at Precision VIR by calling 214-382-3200 or by completing the form below.
How Are Varicoceles Diagnosed?
Varicoceles can be identified during a man's routine physical exam. A doctor will feel the testicles while the male patient is in a standing position and/or asked to bear down or cough. If a varicocele exists, the extra pressure will typically make the vein bulge. A doctor specialist can feel this varicocele bulge in the scrotum.
Sometimes the varicocele is so small or hidden, that it cannot be felt. Varicoceles that are smaller often are detected only on further testing. This can involve Doppler ultrasonography, that is, ultrasound designed to detect the sound of backflow of the blood through the valve. Testing may also include thermography which is infrared sensing technology to detect pockets of heat created by the pooled blood.
How Are Varicoceles Treated?
The good news is, varicoceles are typically very treatable. Varicocele Embolization is a non-surgical, minimally-invasive treatment that is highly effective at treating varicoceles. Blood flow to the affected veins is shut off, resulting in relief of the pain caused by varicoceles. In this procedure a catheter is inserted into a femoral vein and then guided to the site of the varicocele. A coil or fluid is then inserted to block blood flow to the vein feeding the varicocele. To learn more, speak with a varicocele specialist at Precision VIR by calling 214-382-3200 or by completing the form below.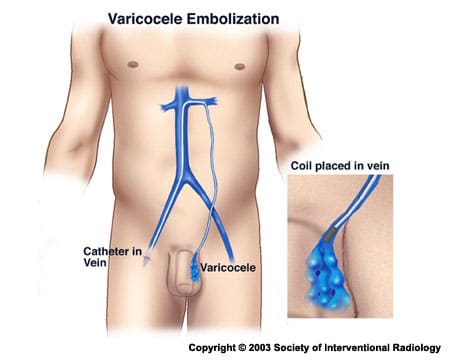 Common Questions About Varicocele Embolization
How Is It Performed?
Under local anesthesia, a tiny nick is made in the skin of the groin, allowing a thin catheter to be passed into the femoral vein. The catheter is then passed into the affected scrotal vein, and that vein is "shut off."
Will Varicocele Embolization Reduce My Pain?
This minimally-invasive procedure has a proven track record of safely and effectively treating the painful symptoms caused by varicoceles.
Is It an Outpatient Procedure?
Yes! Since Varicocele Embolization is a minimally invasive procedure, you can go home the same day! And since the only incisions made are tiny nicks the size of a grain of rice, you can get back to normal activities in about a week.
Can Varicocele Embolization Reverse Male Infertility?
Varicoceles are a common cause of male infertility. In fact, 40% of men who are infertile suffer from varicoceles. However, Varicocele Embolization can often reverse this, by leading to an increased sperm count.
At Precision VIR, Excellent Patient Care Is Our Passion
Our specialists will take the time to answer your questions about varicoceles and Varicocele Embolization.
Schedule an Appointment
Request an appointment for a varicocele evaluation if you're experiencing any of the following symptoms, by calling us at 214-382-3200 or completing the form.
Pain when exercising, sitting, or standing
Shrinking of one testicle
Cannot get your partner pregnant
Unusual bulges in one testicle
Pain that worsens during the day
To lie on your back relieves pain
Chronic dull pain in the testicles
<div id="panel-1617-5-1-0" class="so-panel widget widget_vfb_widget vfb_widget_class panel-first-child panel-last-child" data-index="14" > </div>
Precision VIR serves the DFW area including Dallas, Fort Worth, Carrollton, Richardson, Garland, Mesquite, Highland Park, University Park, Park Cities, Plano, Frisco, Allen, McKinney, Arlington, Irving, Grand Prairie, Denton, Flower Mound, Lewisville and all of North Texas.
This information is not a substitute for professional medical advice. Prior to starting any new treatment or questions regarding a medical condition, always seek the advice of your doctor or other qualified health provider.