Meet a Mom Who Can Now Keep Up with Her Children Thanks to Precision VIR
Lauren is a mom and an avid runner. But pregnancy, more specifically varicose veins from pregnancy, caused leg problems later on that she couldn't ignore.
Horrible pain in her right leg was negatively affecting Lauren's life and her ability to perform every day functions. "This all started in my first pregnancy and got exponentially worse during my second pregnancy. I had extremely large, ugly and bulging veins in my lower back right calf and thigh. I could hardly withstand the constant throbbing and aching pain during my pregnancy and even after my delivery."
Lauren was unable to exercise and run like she used to, and she wasn't reaching her athletic potential. She was woken up in the middle of the night by aching pain in her leg. She lost sleep and was not able to get a full night's rest. That takes a toll on a busy mom! Lauren's pain prevented her from keeping up with her toddler. Also, she was self-conscious of how her legs looked. She didn't want to wear shorts, skirts or dresses that showed her bare legs.
Top Treatments for Varicose Veins from Pregnancy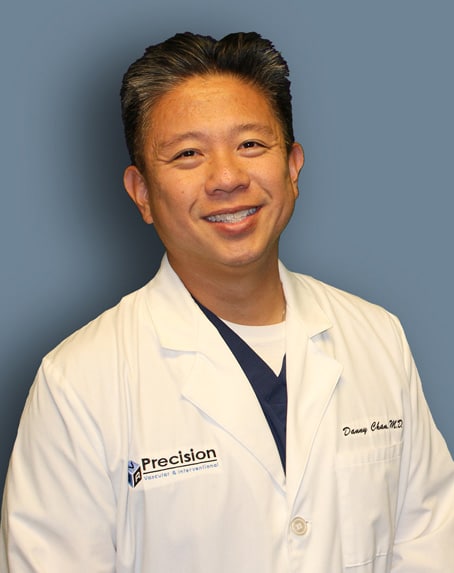 Lauren met with Dr. Danny Chan at Precision VIR, one of the top vein doctors in Dallas. Dr. Chan diagnosed her with Right Lower Extremity Vascular Insufficiency with reflux. When valves in the leg aren't working correctly, blood begins to pool and fall backwards down the leg, causing problems. To alleviate Lauren's symptoms, Dr Chan performed right lower extremity greater saphenous vein (GSV) and small saphenous vein (SSV) ablations with with US guided and cosmetic sclerotherapy.
Meet Our Expert Doctors
To explain ablation, an experienced doctor such as Dr. Chan or one of the other qualified vein experts at Precision VIR, inserts an Endovenous Radiofrequency Ablation (RFA) Catheter to collapse and close enlarged leg veins. After the vein is sealed shut, blood then naturally re-routes to healthy veins.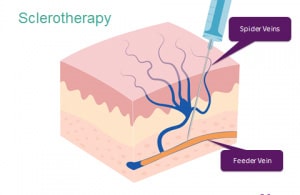 Cosmetic sclerotherapy is also a simple, in-office procedure where the doctor using a teeny, tiny needle to inject medicine into spider veins, causing them to clot and disappear into the body.
Unlike surgery, these procedures are non-invasive, less painful, and have a much faster recovery. That allowed Lauren to get back to her usual activities quickly, such as being a mom, taking care of her family, working and exercising.
Read About Vein Care During Pregnancy on Our Blog
Lauren is thrilled with the results of her treatments! "My leg is no longer in pain! I can sleep soundly at night without pain. I do not get aching or heaviness in my right leg. In fact, I have run my fastest half marathon since having this procedure and am able to regularly run and exercise without being slowed down. I can now keep up with my 2 little kids. Also, I am happy to wear shorts and dresses now because my veins have disappeared."
Lauren would happily recommend Precision VIR to her family and friends. She says the staff was friendly, welcoming and professional. Also, she felt that she mattered, and that her treatment was a priority to the doctors and staff. She believes that Dr. Chan and all of the doctors on the team are passionate about what they do. No wonder Precision VIR is considered one of the best vein treatment centers in Dallas and the surrounding areas!
Expert Doctors Treat Varicose Veins from Pregnancy
Leg pain, leg swelling (veins are swollen), fatigue and varicose vein formation is a common problem in pregnancy and beyond. Sometimes these problems are of a pure cosmetic nature or could be due a more chronic underlying condition.
If you are pregnant, or recently had a child, and are experiencing painful, aching legs, call Precision VIR at 214-382-3200. Or complete the form below to schedule your appointment with one of our expert doctors. Whether you need treatment, or just some strategies to prevent further problems, the top vein doctors at Precision VIR can help.
Precision VIR serves the DFW area including Dallas, Fort Worth, Carrollton, Richardson, Garland, Mesquite, Highland Park, University Park, Park Cities, Plano, Frisco, Allen, McKinney, Arlington, Irving, Grand Prairie, Flower Mound, Denton, Lewisville and all of North Texas.
This information is not a substitute for professional medical advice. Prior to starting any new treatment or questions regarding a medical condition, always seek the advice of your doctor or other qualified health provider.
*names may be changed to protect patient confidentiality