Overview
A mediport is a small medical device implanted beneath the skin, to give chemotherapy, to receive blood transfusions or draw blood, and to receive IV fluids or IV medications. The port consists of a reservoir which attaches to a catheter, a thin, soft plastic tube. The catheter connects the port through a vein in the neck. It is inserted in the upper chest and appears as a bump on the skin.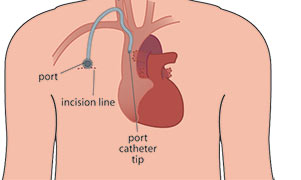 The mediport requires no special maintenance on your part and is completely internal, so swimming and bathing are not a problem.
Medi-ports are placed to gain venous access. These ports can be used for chemotherapy treatments, long-term antibiotic use, fluid therapy, or blood draws.
Precision VIR is the first independent Vascular and Interventional Radiology practice in North Texas, established in 2012. We focus on minimally invasive procedures and surgeries that are the safest and most efficient for our patients.