As many as 900,000 people develop blood clots in the United States every year. Often, they aren't treated in time because they go undiagnosed. According to the National Blood Clot Alliance, the lack of an early diagnosis can lead to death. One in three of those with late diagnoses can experience fatal results. When diagnosed, especially early on, blood clots and a blood clot in the leg are easily treated.
What does it feel like when you have a blood clot in the leg? Here are 10 signs of blood clots:
Redness or a slight discoloration of the skin is often one of the first signs of the formation of a thrombus or blood clot deep in a vein. The cause of the skin discoloration is pretty straightforward: dense collections of blood beneath the surface of the skin become visible as they grow in size.
Blood clotting will often cause a temperature change on the skin. The skin near the blood clot area may increase in temperature and become warm to the touch. Sometimes this warm skin also presents as a persistent feeling of heat or tingling in the affected area. Localized warm skin is frequently accompanied by other symptoms including throbbing. Like other symptoms, these presentations typically don't respond well to home remedies and will intensify over time if they are left untreated.
Painful swelling may occur at the site of the blood clot, particularly if it develops in the leg, ankle or calf area. These areas of the body have increased bone and tissue densities, making it more difficult for the body to naturally clear a forming blood clot. One of the tell-tale signs that swelling may be blood clot related is that it will not respond to usual treatments such as the application of hot or cold compresses. The swelling may also intensify for no immediately apparent reason and may occur without external injury to the affected area.
Another symptom is an increased heart rate. As a blood clot in the leg grows in size the body will attempt to eradicate it. The vital organs like the heart will work and pump harder, resulting in an accelerated heartbeat. Abnormalities in heart function can also signal that the blood clot has left your leg and traveled to other parts of the body. If so, you're likely to experience other symptoms including sharp stabbing chest pains which intensify with deep breathing.
Fainting and dizzy spells may occur if the body is unable to dissolve the blood clot naturally. Or, if the blood clot in the leg detaches and travels towards the lungs, breathing may become labored. Dizziness may be most pronounced if you stand up suddenly after sitting or lying down. Due to the nonspecific nature of this symptom, many people don't associate it with the possibility of a blood clot.
A blood clot, particularly if it detaches and enters the bloodstream, may cause a mild or low-grade fever. In addition to elevated body temperature, the symptoms of fever include sweating or shivering, a persistent headache, body weakness, dehydration and diminished appetite.
A blood clot in the leg can cause fatigue. An illness or condition can have the body's defense systems working overtime which may result in fatigue or exhaustion. As with many other symptoms of deep vein thrombosis, fatigue can be nonspecific and its root cause can be difficult to diagnose. Thus, it's important to be on the lookout for other blood clot symptoms if you're frequently feeling tired.
Tenderness may occur on the skin surrounding the blood clot in the leg. Even though it's deep within the leg, skin may become quite tender to the touch with no evidence of bruising on the skin surface. The veins below the skin in the affected area may also become visible through the skin, though this typically does not occur until the blood clot grows to a relatively large size.
Approximately half of those experiencing a blood clot in the leg or deep vein thrombosis (DVT) have little or no symptoms at all. While an asymptomatic blood clot is usually a sign that the thrombosis has not yet reached a serious stage, this isn't always the case. Even large blood clots that require immediate medical attention can sometimes cause no symptoms at all until the blood clot dislodges and travels through the bloodstream.
Sometimes a particularly stubborn blood clot in the leg will show itself as distension in surface veins in or around the area of the leg where it's developing. You should pay particular attention to this symptom if you aren't experiencing similar phenomena in other parts of your body. In most cases, distended veins will not result in complications or problems in and of themselves. However, in cases where a blood clot in the leg is putting significant pressure on surrounding blood vessels, internal ruptures may occur and intensified redness or bruising may result.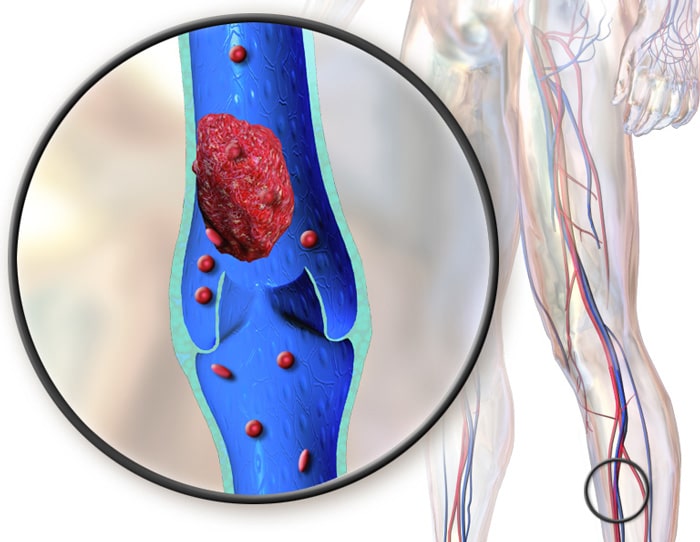 At Precision VIR, our expert doctors routinely see a blog clot in the leg as a symptom of deep vein thrombosis (DVT). A deep vein thrombosis (DVT) is a blood clot that forms in the deep large veins of the pelvis, legs, thighs, or arms. A DVT can reduce or block the flow of blood in a vein. It may dislodge and travel in the bloodstream, causing a stroke, pulmonary embolism, heart attack, or death. DVT is a potentially life-threatening condition and requires immediate medical attention. Read more about DVT treatment on our blog.
About DVT Treatment
Request an Appointment for Blood Clot in the Leg
If you are experiencing any of these symptoms and suspect that you may have a blood clot in the leg, call Precision VIR at 214-382-3200 to set up an appointment or complete the form below. Our friendly and expert staff will determine the best treatment options for you. The doctors at Precision VIR are among the best interventional radiologists in Dallas. Our excellent care will guide you through minimally invasive procedures that will have you back to your usual routine more quickly and with less discomfort.
Precision VIR serves the DFW area including Dallas, Fort Worth, Carrollton, Richardson, Garland, Mesquite, Highland Park, University Park, Park Cities, Plano, Frisco, McKinney, Allen, Arlington, Irving, Grand Prairie, Flower Mound, Denton, Lewisville and all of North Texas.
This information is not a substitute for professional medical advice. Prior to starting any new treatment or questions regarding a medical condition, always seek the advice of your doctor or other qualified health provider.